Stay Sharp: Practice Acting at Home
How often should my kids practice acting? I feel like if it was an instrument they would need to practice every day. Is it the same for acting? And what are ways that they can practice at home? Acting is like playing an instrument. Take the violin, for instance: If you don't practice your bow work at home and only play during orchestra class, you won't sound too great when recital time rolls around! It's the same with acting: your child needs to put in the work to learn how to play!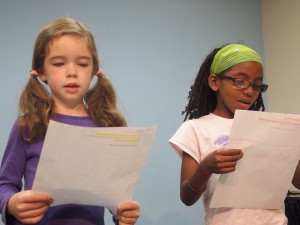 Actors should be in class at least once a week, no less than that– particularly if they're auditioning. Consistent training is the only way for them to develop the tools they need to be competitive. Acting isn't as easy as it looks, parents! They need to be studying regularly to improve their skills, hone their technique, and keep their instruments tuned… so that when that once-in-a-lifetime opportunity rolls around, they're ready to reach out and grab it. This is of great importance for children who are already signed with agents; I tell my kids at 3-2-1 that landing an agent is no reason to sit back and stop training. "Congratulations," I say, "now get back in class!" In addition to attending their regular classes, they should also be studying at home.
Take scripts to take home to practice.  Set aside time for your child to work on the material at home using the techniques they've learned from their acting coach. Then, have an older son or daughter tape a few takes of their performance with a video camera so that your little one can see their progress for themselves.  If you don't have access to scenes recommended by a teacher or coach, go online for material. There are plenty of websites that offer free monologues and scenes for children. Or simply open up a magazine and practice reading ad copy out loud. Once you start looking, you'll find that opportunities for your child to practice their craft are everywhere. However, practicing at home is not to take the place of class time with a qualified, experienced teacher. If your children are serious about getting into TV and film, they need to commit to training in a professional setting.

Related posts: